Our Plumbers Go Beyond The Call & Beyond Fort Worth
Our Fort Worth plumbing contractors get around. We don't spend our days and nights trapped by the city limits. After all, Fort Worth is a commuter town, and we want to take care of everyone whether they are working downtown during the day or relaxing at their suburban home at night. Call the name you trust – our Forth Worth plumbers.
---
Crowley
When you come home from a long day at work and find a small pond where your kitchen floor used to be, call in our Crowley plumbing team to get the area clean and take care of the cause. A simple hose connection, garbage disposal seal or even a worn dishwasher line could have caused it. Our techs will get in, locate the problem and have your kitchen back in working order before you hit the pillow. We'll even set up a return visit to check out the rest of your plumbing to make sure it doesn't happen again.
---
Everman
Our Everman plumbing team is known around the area for quick response times but more so for our 100% satisfaction guarantee. Whether you are having a new water heater installed or an emergency pipe repair, we stand behind our work. If anything goes wrong within 30 days of the service, we'll put you right at the top of the list and get it fixed. We've probably repaired or installed a plumbing fixture for one of your friends or a member of your family. Ask around, we bet we're number one on their list.
---
Forest Hill
Even at 3am, we're the go to place for plumbing repairs in Forest Hill. Our 24/7 emergency plumbing service team is always fully staffed and ready to take on whatever you can throw at them. We've fixed everything from backed-up garbage disposals to full basement floods after hours. Don't wait until 8 am to give us a call, standing water just keeps doing damage until it's removed. Our Forest Hill plumbing team is ready to serve you now.
---
Edgecliff Village
Being completely surrounded by Fort Worth gives Edgecliff Village a substantial advantage over many other small communities, including almost immediate response times to major plumbing emergencies. Our Edgecliff Village plumbers are usually on-site within an hour of the call and have all of the equipment in tow to get your plumbing problem handled post haste. Of course, we also handle full site inspections and major appliance installations for all commercial and residential customers in the area. Call our friendly staff now to schedule your plumbing service.
---
Lake Worth
The village of Lake Worth is one of our favorite places to work. Our Lake Worth plumbing contractors have found that the pipework, in that area in particular, is easy to access and repair. We've also been party to the growth in the area in recent years, helping several new businesses get a foothold in the area. Call us now for everything from a routine plumbing inspection to a complete repiping or systems overhaul. Our Lake Worth plumbers are fully licensed and insured to work on all commercial and residential buildings in the area.
---
Sansom Park
If you're a resident of Sansom Park chances are you've seen our trucks around on more than one occasion. We take great pride in the work that we've done in the area, including major drain clearings and water heater repairs. Our friendly staff is full of experienced techs and master plumbers. When you call our Sansom Park plumbing service, we guarantee that you'll be satisfied, and hope you'll be impressed, with the service you get!
---
Benbrook
We've been doing plumbing repairs and installations for quite a while, in fact, our first lifetime customer started with our service long before most of the communities in the area were incorporated. Did we mention that our first customer was a residence in Benbrook? Mr. Filman called us in to repair a galvanized sink drain line that had rusted out. We did such a great job that he called us in to do some work at his local grocery store, and we've been the most popular Benbrook plumbers ever since.
---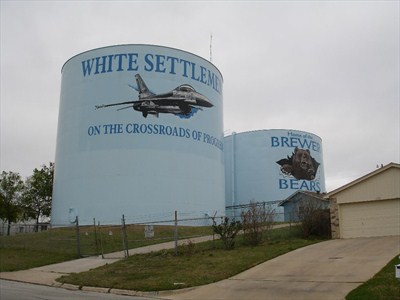 White Settlement
While it's true that we don't have a shop in the White Settlement community, we might as well have. Every single truck that we send out is fully equipped with over 2,000 replacement parts and 200 individual tools. Unless you have a truly enormous issue that involves bringing in a backhoe, we have a mobile shop that can fix your issue on-site. Our White Settlement plumbing contractors use the latest leak detection and repair equipment to make your plumbing service as quick and painless as possible. Call us now to get a truck dispatched to your door any time of the day or night!