Our Forth Worth Plumbers Know Water Heaters - Inside and Out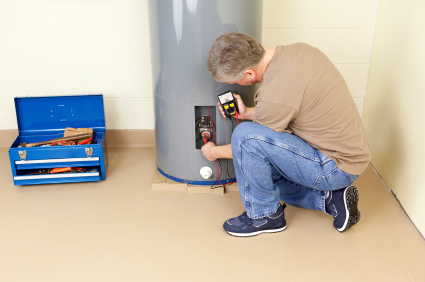 Our Fort Worth plumbers install and repair water heaters from Bradford White, State, Rheem, Kenmore, Whirlpool, and many more brand name manufacturers. We do warranty work and our plumbing technicians are fully-educated in all of the modern technology being developed for water heaters. Our job is easier when we fully understand the products we're working with, and thoroughly. Today, a water heater can be powered by gas, electricity, or even oil, but the elements on the inside conventional storage models remain very similar. To heat water there has to be a heating coil or grid of some kind.
It's the burning out of these heating elements that is the most common cause of water heater failure. If you fire a water heater without the elements being completely submerged, you will immediately burn out the entire unit. It's called dry firing and it has been known to burn out even the newest of water heaters up until a few years ago when new technology was developed. Today, integrated circuitry prevents that from happening.
Call Now! - 817-210-4806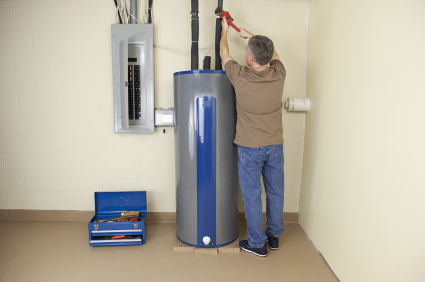 Water Heaters are Smarter Than You Think

While "smart water heaters" haven't exactly developed as a buzzword, that's exactly what they are: smart. A modern water heater can also have incredible efficiency gains over older water heaters that many of our customers used every day, until we put them in the right track. Speak with your Fort Worth water heater experts today to learn how our technicians can help reduce your energy bill, increase your hot water capacity, and even reduce the time it takes for your shower or faucet to heat up after a cold night. Call now for rates and availability. The number is 817-210-4806, or you can click here to schedule service, or ask us any questions you may have, online.
---
Should My Next Water Heater be Tankless or Standard?
Countless families throughout Fort Worth will tell you that they couldn't imagine living without their tankless water heaters, but the fact of the matter is that every home, plumbing system, and family has different hot water needs and necessities.
Tankless Water Heaters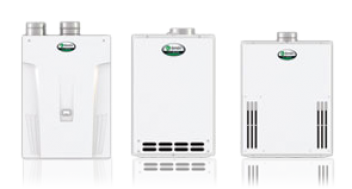 Tankless water heaters remove one of the biggest limitations of a conventional water heater: time capacity. Showers supplied by tankless water heaters don't run cold because water is heated continuously when in use. As soon as you're done using hot water, instead of heating a large supply to keep on hand, tankless water heaters quickly shut off and save their energy. Because tankless water heaters are made of significantly higher-quality parts than many conventional heaters, you can also expect several more years of service out of a single unit.

Of course, there are also a few drawbacks to a tankless water heater. First and foremost, the setup cost is usually much higher than a conventional water heater, due to equipment and sometimes necessary repiping and rewiring. The other significant drawback is that, while you can use hot water for as long as you want, you can't use as many hot water fixtures simultaneously. If you have a big family where two or more people are used to taking showers at the same time, then a tankless heater may not be your best choice.
Tankless water heaters are best for secondary residences and vacation homes, smaller families, and situations where it makes more sense to spend a little more money in the short term for a little more luxury and peace of mind in the long term.

Conventional Water Heaters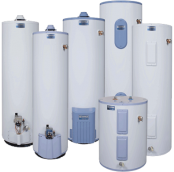 The conventional water heaters we all know and love keep getting better every year. Thanks to a few groundbreaking innovations in insulation and conduction technology, water heaters today are significantly more advanced when it comes to storing hot water for long periods and heating up it much quicker, which is why modern conventional water heaters now take much less time to recharge after a full discharge. Conventional water heaters also rely on a large majority of common parts, which means that they rarely require OEM parts for repair.
But conventional water heaters are not without their downsides. Versus a tankless water heater, a conventional water heater takes up a lot of space, isn't nearly as energy-efficient, and, of course, can run out. A conventional water heater may also not last as long as one of its tankless cousins. In many cases, you can expect to get 5-10 less years of life out of a convention water heater, versus a tankless model. If your family does a lot of vacationing, or only uses the water heater in question for a fraction of the year, you'll also either have to disable it when leaving for long stretches or suffer the consequences of unnecessary energy use.

Conventional water heaters are best for primary residences and homeowners who are used to spending a little time and energy on regular repairs.

---
Your choice in water heater is always yours, but one of our plumbing contractors in Fort Worth would be happy to help you along the way. Some homes and situations are always best geared towards one choice or the other, but with so much fuzzy math in the equation, the best choice is to always call one of our plumbers and let them give you their honest, dependable advice. Our plumbers are always available and always ready, so what are you waiting for? Pick up the phone today, and let's get something on the books!